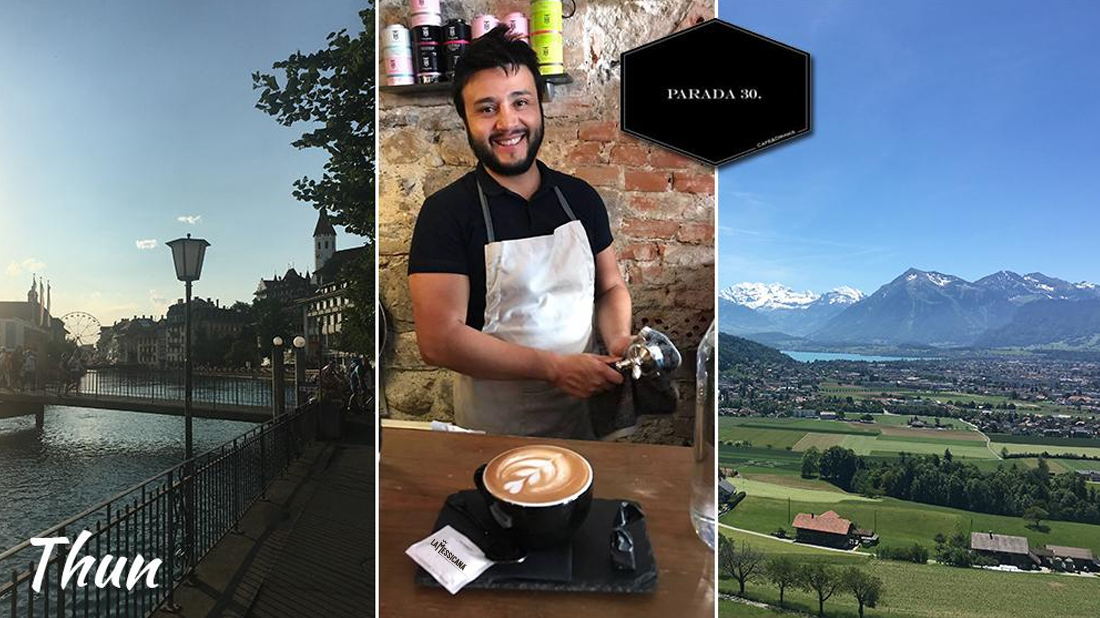 Lauded by Goethe and Rilke, the town of Thun overlooking to the place where the River Aare merges with the lake, is embraced by the Bernese Alps in a suggestive and picturesque landscape.
Valuable and characteristic the historic town center, which deserves a nice walk. Until the Seventies in Mühleplatz ( literally Square of Mill ) the wheat was turned into flour. In the Nineties, the old mill's buildings where demolished and the square redesigned. Since 1994, this place between Bälliz, the shopping street and the historic center of Thun, directly to the River Aare, it has become a vibrant meeting point. Numerous cafés and restaurants, trees and stairs leading to the River's banks, sculptures and installations confer an unmistakable countenance to the square.
We are in the cosmopolitan and Middle-European Switzerland's heart, where cultures meets and
trends become fashionable. During the sightseeing tour you have to get a break tasting one of the best coffee in town, as well as it has been declared by the Swiss newspaper Berner Zeitung. The address we suggest is Mühleplatz 30, where Cafe Parada 30 is.
In accordance with the gastronomic trends, for years Parada 30 has chosen for its customers Caffè La Messicana, thanks to which it deserved the podium of the best espressos of the city according to the jury of experts composed by professional connoisseurs, as Mathias Bühler (Swiss champion bartender in 2010 ) and Sascha Müller ( bartender and member of the Specialty Coffee Association of Europe). In particular, the espresso served by Parada 30 reached the highest score both for the balance of taste and for the creaminess.
A rewarding result for Cafe Parada 30's professionalism that makes La Messicana proud, once again on the front line when the quality is the winner.