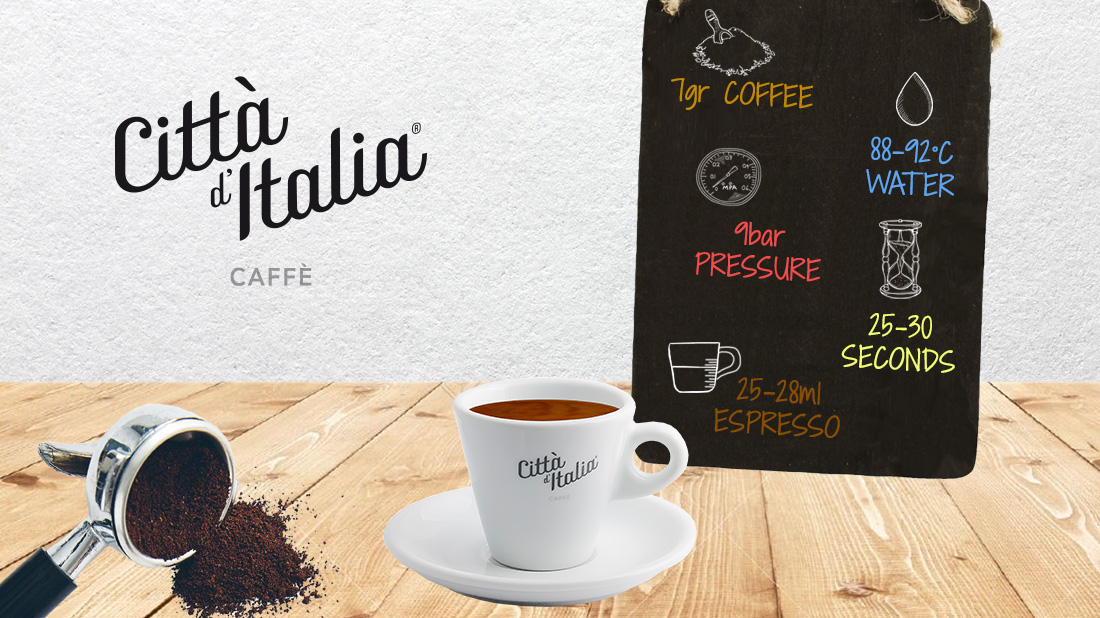 All the best bartenders know this: in order to unleash the maximum taste and aroma, a good coffee must be brewed following precise guidelines and using a professional espresso machine in a perfect state of maintenance and cleaning. This procedure is fundamental in order to offer an excellent product as recommended by Città d'Italia – Caffè La Messicana Piacenza to its customers.
Coffee extraction
A perfect espresso is a balance made by different factors, so you must carefully follow all the brewing phases. Here are the main guidelines:
Coffee must be stored in a cool and dry place.
It is recommended to grind the suitable amount of coffee, preventing it from aging into the dosing device, it is also recommended to empty the latter at the end of the day.
The shower has to be cleaned by flushing the brewing unit to clean out any coffee residues.
The portafilter has to be cleaned from the coffee residues, even inside of it.
The ideal coffee dose is 7gr and it must be pressed in a way that complies homogeneously.
Clean the edge of the portafilter.
The machine pressure has to be 9 BAR and the water temperature between 88°C and 92°C.
Once we are ready to brew an espresso, the time before extraction is about 6 seconds and the extraction time is about 20-30 seconds.
The total amount of espresso must be between 25 – 28 ml.
How to recognize a correctly extracted espresso?
An espresso is properly extracted if the shape of the stream is like a "mouse tail" and the cream is uniformed with the so-called "tiger skin" (dark hazelnut streaks on light ones). On the other hand, an espresso is over-extracted if the cream has a lighter stain with a hole, while it is underextracted if the cream is lightly and the espresso has a quick finish.